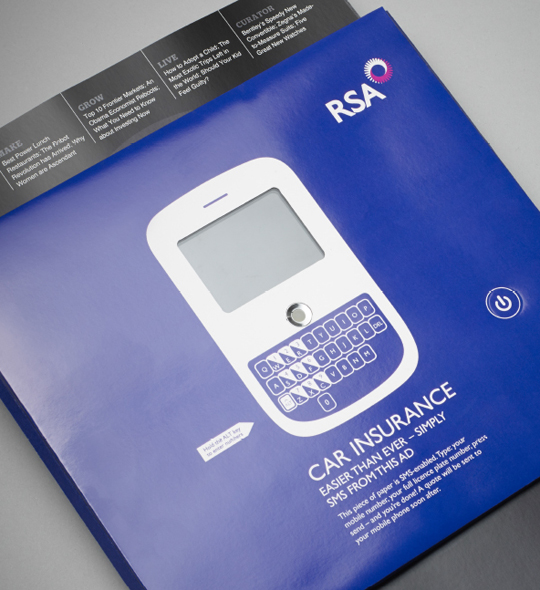 Paper. Print. Design. Knowledge. That's what NewPage's Ed series is all about. Let's look closer into Ed #15 Interactive Print. How about page 28?
Short Message Service (SMS) Technology is what allows you to text message on your mobile device. Imagine this technology in a simple belly band wrapped around a magazine. The printed belly band is embedded with a super-thin SMS keypad device. Say hello to the world's first fully interactive print ad possible. Recently, car insurance provider, RSA took speed and convenience to a whole new level. You simply type in your mobile number and your vehicle license plate number. Press send. A quote arrives by text message to your mobile device shortly after. AND, the ad is fully shareable, enabling anyone who wants to get a quote to obtain one at no obligation. How much does a embedded device cost you may ask. The unit cost ranges from mid $20 to the mid $50's, depending on your quantity. Watch how this innovative piece works.
Ed is printed on Sterling Premium, a premium and affordable coated paper. It comes in various coated surfaces - gloss, dull and matte in a variety of weights from 60 text up to 130 cover. Ask your O-K paper representative about Sterling Premium and the Ed series. They would be happy to introduce you.