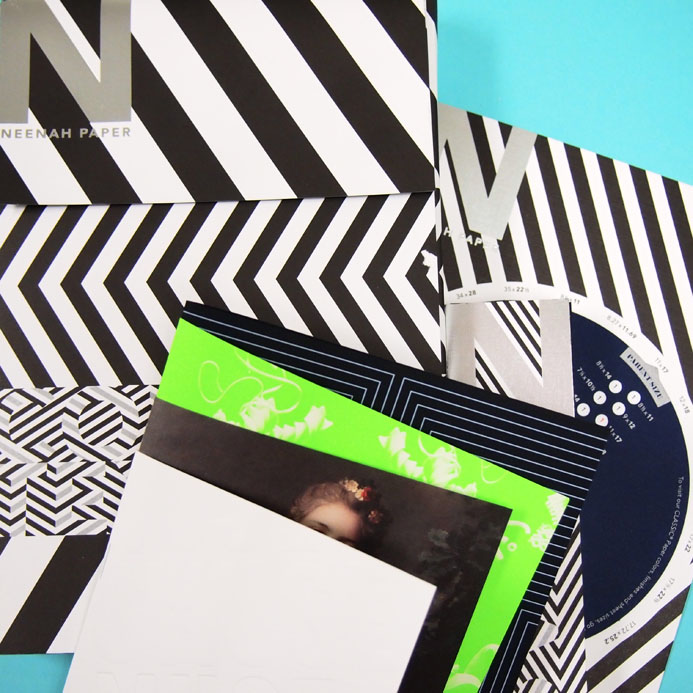 Neenah Paper has recently released The Classic Paper Tool Kit, an inspirational guide to color and texture possibilities with the Classic brands. Long time paper enthusiasts will feel nostalgic digging through this kit, as it is filled with some paper industry items commonly used in years past. Inside the hypnotic, black and white patterned kit are five distinct items:
Color Mixer Fan Swatch - Thirty different color palette suggestions to inspire you. At the top of each swatch in this fan, you'll find one of the Perfect 10 colors along with suggested color and texture pairings below.
Perfect10 Fan Swatch - Shows you each of the Perfect 10 colors and textures in a larger size to touch and feel.
Sheet Cut Calculator - Turn the wheel of this handy device and discover how many sheets can be cut from a particular sheet size.
Envelope Guide - A compact envelope resource of sizes and styles to find the perfect carrier for your next project.
Portfolio Kit - Features true to life printed samples of the palette suggestions in the Color Mixer.
Trust us, this is an ample sample of paper not to be missed. Beautiful and useful. It doesn't get any better than this. Contact your O-K Representative for your Classic Paper Tool Kit today!