It's Wednesday, day three of our focus on the educational reference piece Standard No. 5: Special Effects from Sappi. Each day, we'll give you detailed information along with tips to make each special effect work for you. Today's focus...
Special Printing Technique: ENCAPSULATED SCENTS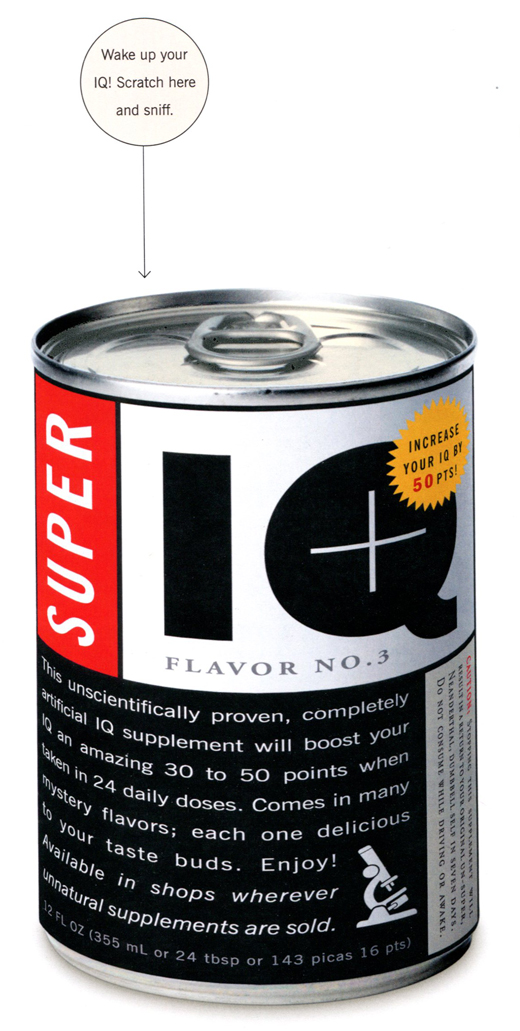 Wake up and smell the coffee-scented ink! Scent is a powerful multi-sensory medium. It links smell to emotion and memory and it can be incorporated into your printed material. Scent is not just a novelty anymore - many of today's high-end retailers have a signature scent sprayed throughout their stores and printed on their correspondence system to create a sense of familiarity with their customers and bring their branding full circle.
The "Super IQ" can above (in it's printed form) when scratched, releases the aroma of fresh coffee. Scented printed products are available in three forms: scented strips, "scratch and sniff" and as microencapsulated scented varnishes and inks. Scented coatings are often called "scratch n' sniff". This technique involves scents micro-encapsulated into pigments that are added to a coating and applied to a sheet of paper. When rubbed or scratched, the microcapsules break, releasing the aroma. Micro-encapsulated varnishes and inks are non-toxic and can be applied in almost any print process. Scent can even be added to envelope seals wherein the scent is released when the envelope is torn open. Here are some technical tips:
For maximum benefit, the size of the scented area should be larger than 2" x 2".
Scented area should be marked to make customer aware of the add-on.
Scented varnishes or inks work best on dull or vellum papers because the coating gives the material a matte finish.
Print the capsules last, as a "fifth color". This protects the capsules from premature deterioration.
Sappi, Standard No. 5: Special Effects is printed on various finishes of McCoy, an environmentally responsible premium coated sheet.