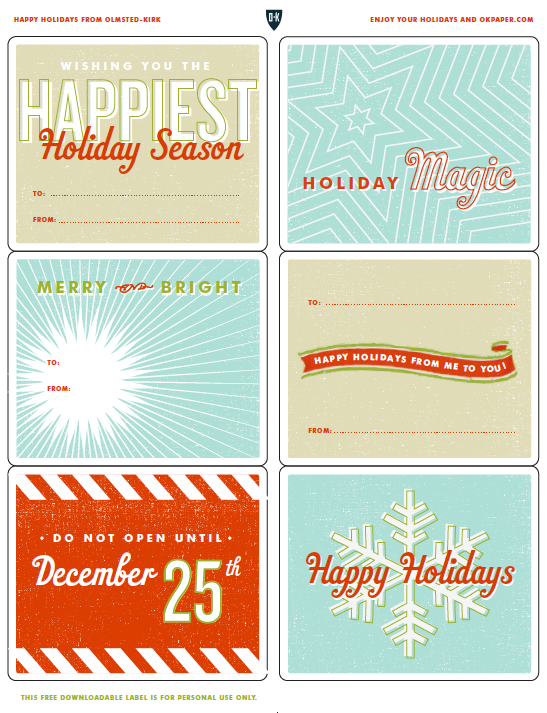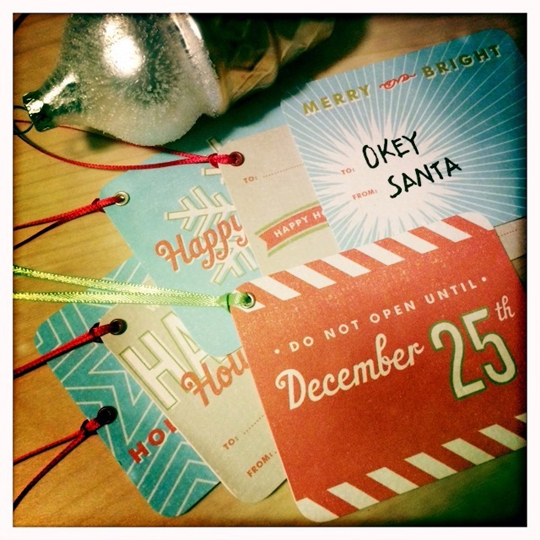 Are you busy wrapping packages? Have you started the shopping and planning for time with family and friends? Here at Olmsted-Kirk, we are really in the holiday spirit. And we want to spread our paper good cheer. We offer you this free downloadable pdf of specially designed labels. They are ready-to-print on our adhesive backed Wausau Coated Die Cut label No. DC72012 or Avery 5164. These nice sized labels - 3 1/3" x 4", will easily allow you to add your own handwritten message. Don't have any of these label sheets? Check in with nearest O-K Paper Center for a box of either labels. Call ahead and they can have them waiting for you at the front counter. You can also find the Avery labels on our myokorders.com, office and supply site. Or simply print the file out on any sheet of 8 1/2 x 11 paper you've got laying around. We printed some of ours on Neenah, Sundance, Felt, Ultra Bright White. Then we cut them out, added holes, metal eyelets and some ribbon.
This free download is for personal use only.
Download PDF here. Give it a second to download and enjoy.